So there are two kinds of 4A-FE pistons, the 1st gen for 1988-1992 6th gen Corollas, and the 2nd gen for the 1993-1997 7th gen Corollas. Does anyone know if the 2nd gen redesigned pistons (which look a little like the 8.9:1 GZE pistons) can be used in the older 1988-1992 4A-FE block? Do the two gens of 4A-FE share the same piston and cylinder head volume?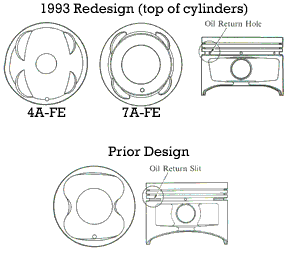 Besides that, I believe the wrist pin size changed between gens (18mm press to 20mm press), and possibly the rod journal & crank (40 to 42). So the rods and maybe the crank would also need to be swapped. Going by info in this old post at the old club4ag (
http://forums.club4ag.com/zerothread?id ... 640#653640
).
And of course the 7A-FE pistons must be a lower compression design, dished a little more than the 4A-FE pistons since it has more displacement.
2021 edit, I'm putting this in here for reference:
1988-1992 4A-FE rods: 40mm big end, 18mm press fit small end
1993-1997 4A-FE rods: 40mm big end, 20mm press fit small end