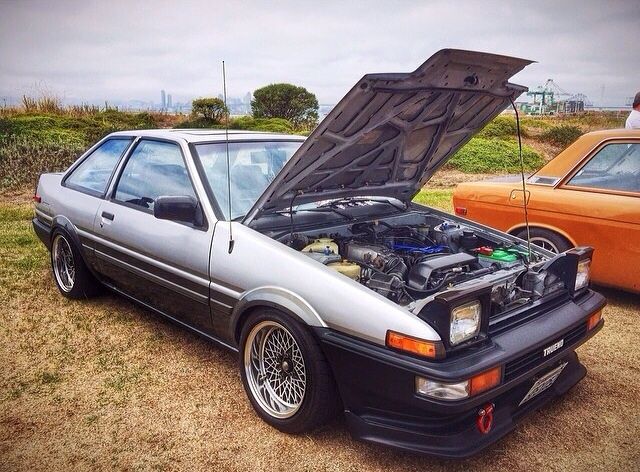 Testing waters, as I'm on the fence about selling one of my cars...
Had this car for a number of years, bought from second owner. Original motor blew a head gasket, put in a newer low mileage engine (7 rib big port 4age) used all original Toyota parts: gasket kit, water pump, etc. brand new Toyota fuel pump and filter installed most recently. All brakes are good, car is mechanically sound. Passes smog each and every time, oil changed every 3-4 months with synthetic mobile 1 oil (regardless of the mileage, which is a plus considering it mostly just sits in a garage now). Dash has one crack in it, rear seat has crack, but otherwise pretty decent interior for its age, nothing missing. Crack in windshield as well, probably will be fixed before vehicle is sold.
1987 Toyota corolla gts
Coupe
Sunroof
Black tweed interior (the one everyone wants)
OEM Power Windows
AC works
Cruise Control works
Original two tone
LSD rear end (all seals changed, no leaks)
Lower mileage 7 rib 4ag big port (have recipt)
Front and rear jdm oem kouki bumpers
Jdm kouki redline coupe tail lights
Nardi 360mm black spoke/leather steering wheel
Long hub + NRG quick release
90s Toyota radio installed, from sienna, has CD player and tape function, plugs right into factory harness (no bullshit crimps/electrical tape)
Mr2 dizzy (comes with heat shield) brand new from Toyota, probably less than 5k miles on it now.
Greddy coil overs (they aight, front left needs rebuild)
Hks sport exhaust (over diff)
SSR Reverse Mesh 15x7.5 -5 all around
Dunlop Direzza DZ101 195-50-15 all around
I don't drive it much, but I'm not sure if I really want to get rid of it, very fun car, never tracked. Car doesn't leak anything and is very reliable, driven from the Bay Area to Lake Tahoe no issues.
Clean title
Asking $7000
4087720945
Feel free to call/text for more information.
Again this is testing the waters, I'm in no rush to sell. Low balls will be publicly posted so all my friends can laugh at you.